Spike in Cranes throughout Brisbane Skyline!
Is it just me, or do you think the spike in cranes throughout the Brisbane
skyline is proof that our economy is shifting in an upward direction? 
As part-owner of Regal Crane Hire in Brisbane, I know we're experiencing a huge increase in our residential and commercial crane hires.
And, after a bit of more research, it seems we're not the only ones!
The number of cranes in the Brisbane skyline is proof that 'things are on the rise.'
Consultancy firm Rider Levett Bucknall's recent Crane Index Q1 – 2021, Brisbane, recorded the most significant increase in crane numbers since 2015.
Residential cranes have increased to 34, up by 12 previously.
Why?
Well, it's due mainly to new developments in Ascot, Brisbane, Cannon Hill, Coorparoo, East Brisbane, Fortitude Valley, Hawthorne, Indooroopilly (2), New Farm (2), Newstead, Norman Park, Seven Hills (2), South Brisbane, St Lucia, Woolloongabba (3) and Yeronga.
Plus, with nine cranes assisting the development at Queen's Wharf, the largest project in the region and one of the largest in the country, this project accounts for 12% of all the cranes in Brisbane's skyline.
Overall, and with all things considered with COVID- these are exciting and encouraging signs of recovery for the crane hire and construction industry in Brisbane and Queensland.
Approx. 86,000 people are moving to Queensland – is this further proof of our economic position shifting upwards?    Yes! It's estimated that approx. 86,000 Aussies will leave their southern states over the next 48 months to soak up the Queensland lifestyle
Who are the people making a move to Queensland?
• Families moving from southern states due to COVID
• Cashed up baby boomers who are retiring, buying property and bringing their investment cash with them
• People who cannot afford a home in Sydney and Melbourne
• Unemployed people seeking new opportunities in Brisbane and the Sunshine state
Undoubtedly, a factor that encourages the move to Queensland is the Palaszczuk Government's $13.9 billion infrastructure investment for 2020 – 2021, as part of Queensland's plan to support jobs and accelerate the state's economic recovery.
Treasurer and Minister for Infrastructure and Planning Cameron Dick said this year's capital program re-affirmed Government's infrastructure guarantee and was expected to support around 44,000 jobs directly!
"The Capital Program 2020 Update includes $13.9 billion in infrastructure spending across the state and is aimed at keeping people in jobs, driving our recovery and securing Queensland's longer-term prosperity," Mr Dick said. It's no secret this exodus of people from the southern states is bringing a steady flow of cash into Brisbane and South East Queensland's economy. And this trend is showing no signs of slowing up just yet.
Add to this the Palaszczuk Government's $13.9 billion infrastructure investment package-and not only will we see more cranes in Brisbane's skyline but also steady growth for the entire East Coast of Queensland.
About Regal Crane Hire Brisbane, Sunshine Coast & Gold Coast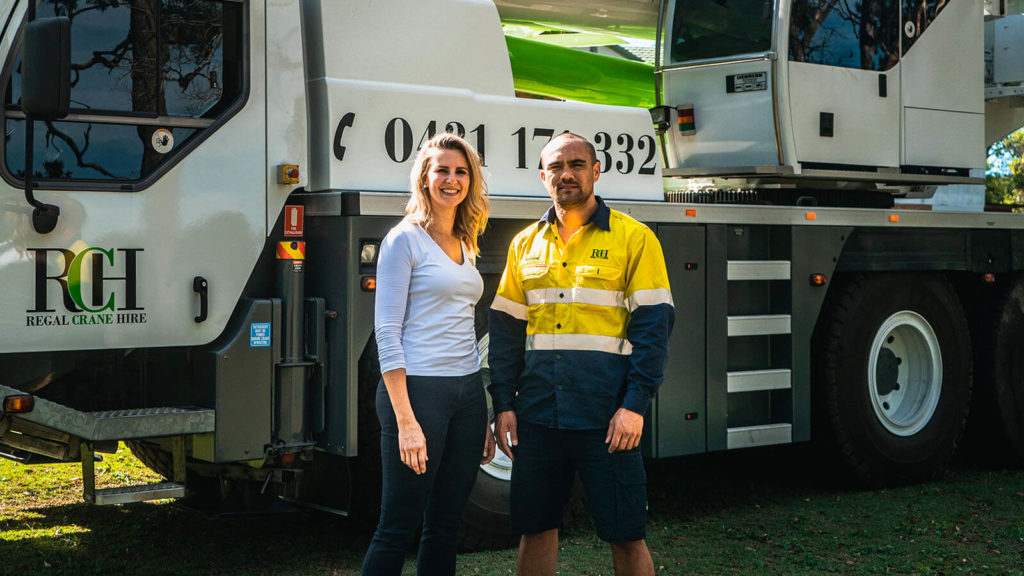 Hi, we're Haydon & Annette of Regal Crane Hire Brisbane. We're a family-owned and operated crane hire business founded in 2016. Our fabulous team is well known as the South East QLD specialists in crane operations and hire for the commercial and residential construction industry, so crane hire is easy, profitable, and safe
For more information about lifting your project and budget to new heights of success, please contact your residential and commercial crane hire specialists at Regal Crane Hire Brisbane, The Sunshine Coast and Gold Coast at info@regalcranehire.com.au or by phoning us on 0431 171 332
Resources:
Rider Levett Bucknall Crane Index Q1-2021 18th edition.
$13.9 billion infrastructure investment to unlock economic recovery