About Regal Crane Hire
Regal Crane Hire, is a family-owned and operated business which was founded in 2016. We are customer-driven and pride ourselves on delivering the best quality service in Queensland.
Meet Haydon & Annette
Haydon, our owner and operator, was born and raised in Auckland, New Zealand. His wife Annette, who takes care of the business development, marketing and general administration of the business was born and raised in sunny, Brisbane Australia. Haydon always knew he wanted to follow his late father's footsteps and become a crane operator. So, at the ripe age of 16, that's exactly what he did.  After completing all the required operating tickets, he started his new career in the crane business. Crane Operation has been his passion since the beginning and he always knew that one day he would start his own company which would allow him to teach and mould his team of riggers and operators with the high standards and values he adopts.
Regal Crane Hire has expanded over the years and Hayden and Anette have brought on a quality, professional team that service the Queensland area. Our business values and commitment to our customers allow us to maintain the highest level of safety practices in our industry and we pride ourselves on our quality of work. We are passionate about what we do and exist in this business to offer solutions which uplift our customers and their project needs. Our value's stand for personal accountability, open and honest communication and we are always up for a challenge, no matter the size of the project.
Our goal is simple
To provide reliable, efficient, and affordable crane and rigging services whenever you need us.
Great Communication is paramount in our field and this is something our team delivers with every customer we service.  Safety for us is paramount.  We strive to provide safe and efficient hoisting throughout your project.
We will make sure you have the right crane equipment for your job requirements, without sacrificing quality and we even offer free consultations and advice on what crane will fit your project. So you get it right every time. Haydon himself will come and inspect your site and specific requirements, so you don't overpay on a vehicle that's not suitable. We offer the best competitive rates in the industry and no job is too big or too small.
No matter the length of your project we offer crane solutions for any project and offer the highest level of reliability, providing the best in the business. Our crane quality and safety protocols are second to none. We have worked hard in this industry to earn a 5-star reputation among area contractors, of whom all still use us since we first started.
Steve- Operations Manager
Born and raised in Brisbane. Steve is an Operations Specialist. With 16 years of mining, civil, and structural experience. Steve specializes in all types of crane and rigging configurations and operations. He has been recognised and published internationally for Game Day and has led the charge for safety and efficiency on a Tier 1 Laing O'Rourke project. Steve spends downtime with his son and enjoy's exploring our beautiful region. 
Hayden - Rigger/Operator
Hayden AKA Haydo, grew up in Country VIC and used to work in an Oil and Gas mine. Was hired by Regal Crane as a rigger and was our very first employee that ever joined our team. When joining the team, Haydo came with his crane license in hand and has learned the ropes of crane operating from Haydon (Bossman) and we think he's doing a bloody great job at it!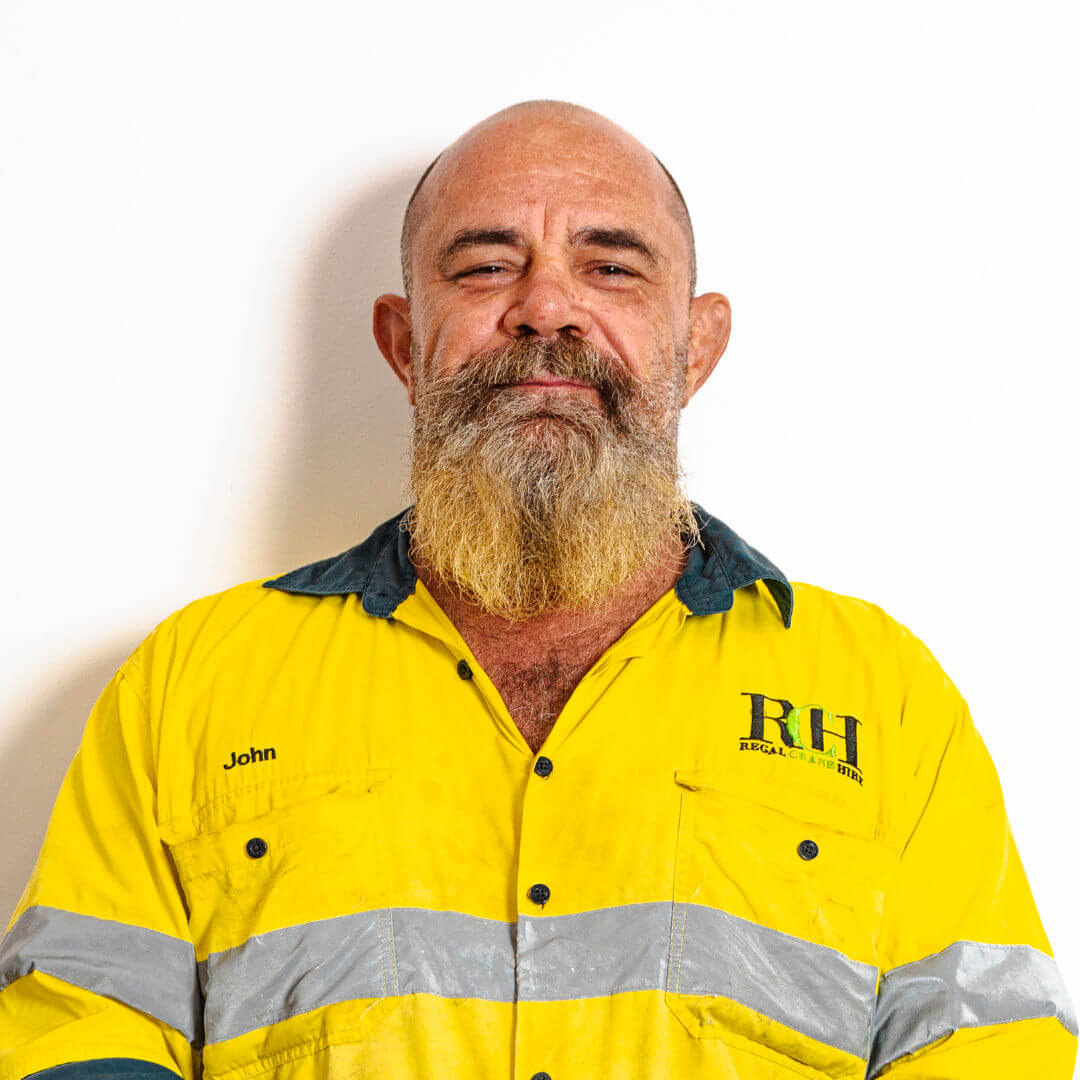 John- Crane Operator
John, Started operating and working with cranes in 1994. His first position was with a shipbuilder NQEA for around 5 years. John did some work in the gas fields of Queensland and the goldfields of Western Australia before returning to general hire in Brisbane for the last 13 years. John enjoys music, sports, and riding his motorcycles quickly.
Thomas- Dogman
Thomas grew up on the Northside of Brisbane before moving to the Redlands. He installed artificial grass after finishing school. He enjoys playing AFL and is an avid camper and loves the outdoors. 
Jake-Rigger
Jake is a local, who grew up in Brisbane. After school, he became a worksite supervisor on site. On his days off, he enjoys going camping, fishing, and sleeping in.
Join our Regal Crane Hire
Community Today!
Take part in experiencing the quality service, commitment and point of difference in our crane hire & rigging solutions that we provide to all our valued supporters in South East Queensland.
Contact Us