By Regal Crane Hire, Brisbane Gold Coast & Sunshine Coast
From lifting swimming pools over homes in tight residential locations to lifting tonnes of steel and building materials 30 floors on construction sites in bustling city streets. The benefits of renting a mobile crane are many, and these are just some of them from your crane hire experts Regal Crane Hire.
Improve your bottom line and get the job finished sooner
Lugging building materials from the front to the back or down a tight space by hand is time consuming, dangerous and tedious. Hiring a mobile crane is cost-effective when you compare it to other alternatives. It can even open you up to workplace health and safety infringements.
Renting a mobile crane solves all these problems and many more. They also reduce the chances of material damage instead of handling and moving building materials by hand or forklifts.
So, if reducing the downtime, speeding up productivity and installation and material wastage and saving a lot of time and money on a residential or commercial project is something that appeals to you, hiring a mobile crane will benefit you, your project, crew and profit margins.
2. Improved safety on the Jobsite
Construction sites have many workplace and safety practices we all need to operate to. Still, human error creeps in, and accidents do happen.
By hiring a crane from a reputable licensed crane hire service with licensed operators, you'll be increasing the safety of your project or jobsite, be it commercial or residential, ten-fold. Improved safety benefits you, your project and the people working onsite!
3. Mobile cranes go where larger cranes can't!
Mobile cranes are smaller than traditional cranes, so they can go where other cranes can't. This makes them perfect for tight city streets and suburban areas with limited access because they do not require much space to set up and operate. You can access or lift materials over tight spaces and lift a lot more weight.
4. Power and strength
At Regal Crane Hire, Brisbane, we know first-hand hiring a crane is not a "one size fits all" approach. There are different types of projects, jobsites, terrains, and picking the weather on any particular day, forget about it.
And this is what makes hiring a portable crane so popular. Mobile cranes have the power and strength to get the job done safely and effectively with flexibility in almost any terrain, rain, hail or shine.
5. It's on the move mobile
Traditional cranes left on jobsites take a pounding from the weather, which also means time down for maintenance and repair. That's costly, holds up or blows out your project deadlines and has a ripple effect. Other tradies and services rely on you to have a specific task done so they can do theirs.
With a mobile crane, none of that wear and tear from sitting onsite exists. Renting a mobile crane means the crane turns up on the day, it may stay on the site overnight or for a few days, but that's about it. Plus, they are closer to the ground because they are smaller, which is a big plus if it needs repair anytime.
Summary
No doubt hiring a portable or mobile crane pays for itself many times over. The savings in time, energy and money, production, safety and material wastage are many. They are the perfect solution for residential commercial and development jobsites and projects of all shapes and sizes.
Lift Your Project To New Heights With Regal Crane Hire Brisbane, Sunshine Coast & Gold Coast.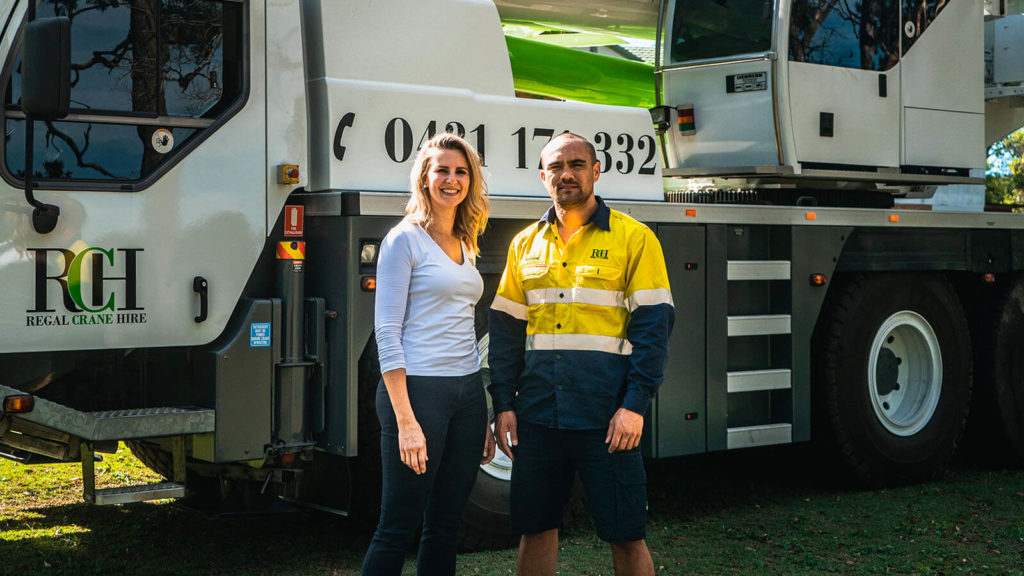 Hi, we're Haydon & Annette of Regal Crane Hire Brisbane. We're a family-owned and operated crane hire business founded in 2016.
Our fabulous team is well known as the South East QLD specialists in crane operations and mobile crane hire for the commercial and residential construction industry, so crane hire is easy, profitable, and safe.
For more information about lifting your project and budget to new heights of success, please contact the crane hire specialists at Regal Crane Hire Brisbane, The Sunshine Coast and Gold Coast at info@regalcranehire.com.au or by phoning us on 0431 171 332